In order to see a larger version of the pictures and get more information, please click on the images.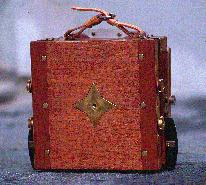 This project took place in 1992. I lived in the USA during 1989 and 1990. During my stay, I saw many photographs that, from my experience were hardly possible with the kind of equipment that I had used earlier. I felt that a larger negative would give sharper pictures, and from time to time, I had the thought of moving to medium format. But what really intrigued me was the ability to adjust the plane of focus in a picture. This triggered the move to large format.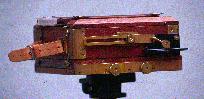 When I began the project, I had never used a large format camera. Actually, I had not even seen one in real life!
The first thing to do was to buy some items that were not practical to do myself. I ordered a focusing screen, two sheet film holders, a lens and a lensboard (Linhof Technica style) by mail-order from Adorama.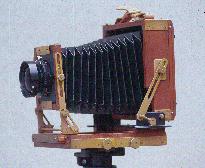 The friends that transported my stuff across the Atlantic gave me what I still think of as an incredible gift for a Large Format photographer to be, an old Speed Graphic (Thanks Lee and Roger). This old Speed Graphic together with an article from a Swedish photo magazine (on how to build a 4x5 monorail) and brochures from Tachihara and Zone VI (today sold by Calumet http://www.calumetphoto.com/) were the sources for all knowledge I had collected about large format cameras.
As you may recognize from the pictures, my camera is a mix of my two sources of inspiration. It has now served me for more than six years and five hundred pictures. As far as I have experienced there has been few occasions when there has been a feeling that the ability of the camera has limited me in my photography.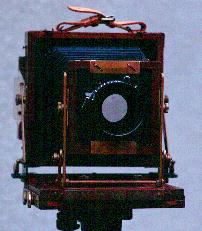 A geared front axis tilt would overcome one limitation I have experienced. With the current design, it is somewhat difficult to make the desired adjustment and ensure it stays there. As I am a "long lens" photographer, I think the 500 mm bellow draw is too short. I am really looking forward to being in a finacial situation that allows me to afford a 450 mm lens.

The camera is built from mahogany, brass and aluminium. Especially in the back there is much more aluminium than what appears at a first glimpse. The gears were bought as standard parts. The knobs are actually gears that have been threaded (or in other ways adapted) and rounded off in order to give a comfortable grip.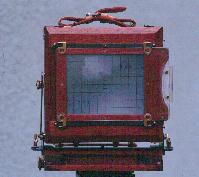 If I were to start this project all over again today I would probably have skipped most of the brass and used aluminium more extensively. That would have resulted in a much lighter camera with the same strength.
In building this camera, I have had good use of a planer (Thanks Bo) for giving the right dimensions to the wood and a milling machine (Thanks Stefan and Altoptronic) for doing slots in the brass bars. I made amny small metal pieces using a watchmakers lathe (Thanks to my Dad). Finally I bought a router for making profiles in the wooden pieces.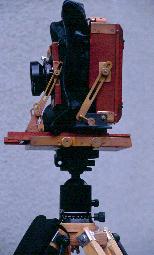 I once started to write a small book on how to design and build a large format field camera. The intention was to describe principles and important aspects of the design while the detailed design would be up to the reader to perform. As time has passed by I start to realize that this book will never reach the intended audience. I have not had the time to do any work on it in the last three years and can not see any more time being available in the coming years.
Hopefully there will however be a new camera. I have followed the development the last years and there have arrived a number of new lighter and more compact cameras with greater capabilities than earlier. I have already made some drawings and even made some parts. The pace is however slow so I will not make any promises on when I can show something here.

Below is a specification of the capabilities of my camera.
Bellow draw max
min
Bellow draw max bag bellow
min bag bellow
approx 500 mm
50 mm
150 mm
45 mm
Front Standard
on axis tilt
base tilt (forward/backward)
swing
horizontal shift
vertical shift

unlimited (only limited by bellow)
25/90 degree
+/- 20 degree
30 mm
75 mm
Rear Standard
base tilt (forward/backward)
swing

90/25 degree
+/- 15 degree
Dimensions LxWxD
217x235x100 mm
Weight
2.65 kg